Brandon Short
MX Sports, Monster Energy and American Motorcyclist Association Introduce AMA Amateur National Motocross Championship Trophy
Time
Friday, February 5, 2021 | 10:00 AM
MX Sports, Monster Energy and
American Motorcyclist Association Introduce
AMA Amateur National Motocross Championship Trophy
Instantly Iconic Symbol of Event's Legacy Features
Every Champion, from Every Class Since 1982
MORGANTOWN, W. Va. (January 26, 2021) - Since 1982, the hallowed grounds of Loretta Lynn's Ranch in rural Hurricane Mills, Tennessee, have served as the global proving ground for the world's finest amateur motocross talent. Over the past four decades no event has left more of an impact and had more influence on the history of the sport than the Monster Energy AMA Amateur National Motocross Championship. As this legendary race embarks on its landmark 40th running in August, organizers MX Sports, title sponsor Monster Energy, and the American Motorcyclist Association (AMA) have come together to introduce an instantly iconic way to celebrate the Loretta Lynn's legacy - the Monster Energy AMA Amateur National Motocross Championship Trophy.
Commissioned by Monster Energy, the trophy was created to become an enduring symbol of the past and future of this prestigious event, and amateur motocross as a whole. Something former champions, current champions, and aspiring champions would be proud to have their name attached to.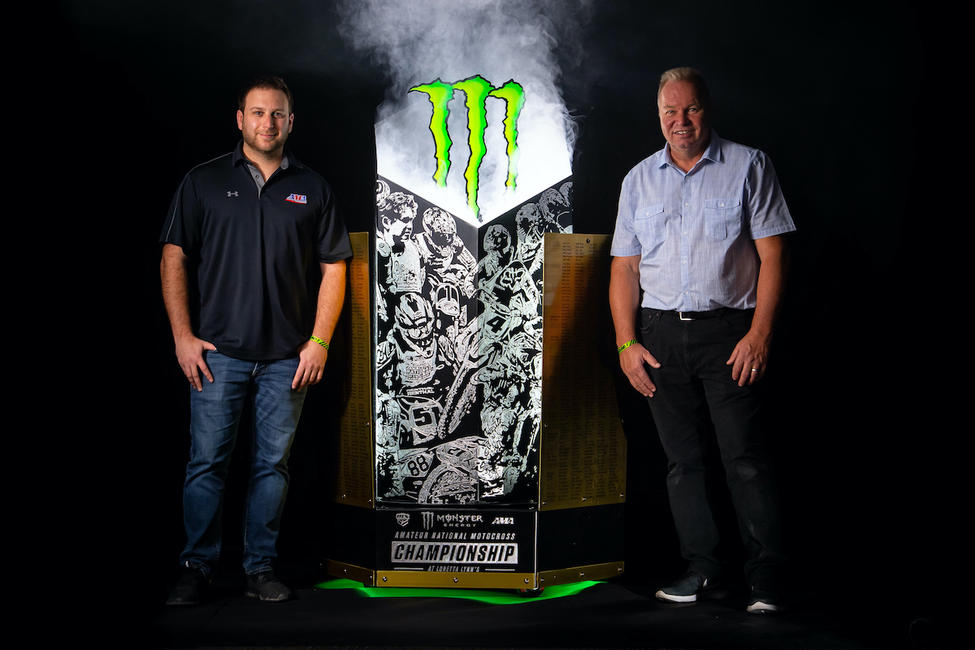 "It is Monster Energy's great pleasure to not only be a part of Loretta Lynn's 40 years, but to also have supported many riders and teams along the way," said Dave Gowland, Vice President of Motorsports Marketing, Monster Energy. "This trophy we made is in celebration of not only this milestone, but also to every champion, to signify all the hard work and dedication each of them devoted to a sport that we all love. It's not just a Monster Energy trophy, but also a symbol to be shared with all past and future champions."
Standing at nearly six feet in height, this hand-crafted capsule of motocross history is a manifestation of the vision of master engraver Hank Robinson of Hanro Studios and the fabrication team at CH Customs. It is composed of aluminum and steel, and includes internal wiring that allows the trophy to emit light and fog from the rotating centerpiece. The hallmark of the build is Robinson's incredible hand-engraved collage that serves as a journey through Loretta Lynn's storied history.
More than 300 hours went into Robinson's meticulous design, which includes the founders of the event - Loretta Lynn and Dave Coombs - in addition to 24 past champions, including legends like Ricky Carmichael, Jeremy McGrath, James Stewart, and Ron Lechien. The centerpiece is surrounded by three hand-brushed brass plates listing more than 1,400 names to signify every champion, from every class over the past 39 years. A list that will continue to grow as more riders earn the coveted distinction of hoisting the number one plate at Loretta Lynn's Ranch every summer.
"I am honored to have been given this opportunity and to be a part of something that will have a legacy," said Robinson. "Working with Monster Energy on this project gave me the ability to have some extreme creative freedom that I hope everyone will enjoy for many years to come."
In the same spirit of other legacy trophies in the world of sports, the Loretta Lynn's trophy will embark on its own journey throughout the 2021 season. It made its public debut at the season-opening stint of Monster Energy AMA Supercross, an FIM World Championship, from Houston and will be on display throughout the remainder of the events on the supercross schedule. From there, the trophy will travel on the "Road to Loretta's" from spring into summer before reaching its destination in Hurricane Mills the first week of August, where thousands of amateur racers from across the globe will all look to add their name to the prestigious list of champions.
"You cannot talk about the history of motocross without recognizing the role of Loretta Lynn's Ranch and the AMA Amateur National Motocross Championship," said Tim Cotter, Director, MX Sports. "This event has served as the foundation for virtually every professional career over the past four decades. Anyone who has gone on to achieve success at the sport's highest level likely got their first taste of victory at Loretta Lynn's, and this trophy is a beyond fitting way to celebrate those memories, for both fans of motocross and the riders themselves."
For more information on the Monster Energy AMA Amateur National Motocross Championship, visit the official event website at www.mxsports.com
or call (304) 284-0101.

Join the conversation on the event's social media channels, along with receiving the most up-to-date news and exclusive content.
About the Monster Energy AMA Amateur National Motocross Championship
The Monster Energy AMA Amateur National Motocross Championship is the world's largest and most prestigious amateur motocross racing program. This year due to COVID-19 the qualifying system was broken into a five-week Regional Championship system. The qualifying system culminates in the National Final (first week in August) hosted annually since 1982 at the home of country music star Loretta Lynn in Hurricane Mills, Tenn. Nearly 10,200 racers attempted to qualify in 36 classes for 1,512 available positions at the National. Christened "The World's Greatest Motocross Vacation", the National event serves as a launch pad for some of the biggest names in professional motocross and supercross, including Ricky Carmichael, James Stewart, Ryan Villopoto, and Ryan Dungey. The national program is produced by MX Sports, Inc., a West Virginia-based race production company and is sanctioned by the American Motorcyclist Association (AMA). For more information, visit www.mxsports.com.
About the American Motorcyclist Association
Founded in 1924, the AMA is a not-for-profit member-based association whose mission is to promote the motorcycle lifestyle and protect the future of motorcycling. As the world's largest motorcycling rights and event sanctioning organization, the AMA advocates for riders' interests at all levels of government and sanctions thousands of competition and recreational events every year. The AMA also provides money-saving discounts on products and services for its members. Through the AMA Motorcycle Hall of Fame in Pickerington, Ohio, the AMA honors the heroes and heritage of motorcycling. For more information, visit www.americanmotorcyclist.com. Not a member? Join the AMA today: www.americanmotorcyclist.com/membership/join.