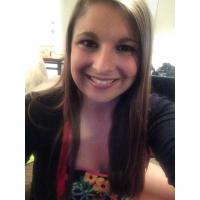 Kayla Bolton
Rocky Mountain ATV/MC AMA Amateur National Motocross Championship Offers Over $880,000 in Manufacturer Contingency to Racers in 2018
Time
Thursday, July 12, 2018 | 12:00 PM
FOR IMMEDIATE RELEASE
(304) 284-0101
[email protected]
Rocky Mountain ATV/MC AMA Amateur National Motocross Championship
Offers Over $880,000 in Manufacturer Contingency to Racers in 2018
National Event Welcomes Manufacturer Trackside Support Teams to 37th Annual Event
MORGANTOWN, W.Va. (July 12, 2018) – The 37th Annual Rocky Mountain ATV/MC AMA Amateur National Motocross Championship, presented by Lucas Oil, will be offering $569,350 in amateur contingency awards to racers participating in this year's week-long event. This unique event, taking place Monday, July 30 through Saturday, August 4 at the historic Loretta Lynn Ranch in Hurricane Mills, Tennessee, will play host to the world's largest and most prestigious amateur motocross championship.
As the Road to Loretta's began earlier this year, Honda along with Suzuki and Cobra offered contingency at the Regional Championship level. Honda presented a total amount of $210,500, while Suzuki gave $50,000 for the Amateur Regionals and $38,400 for the Youth Regionals. Cobra made the decision to award 50cc riders with $4,725 in contingency, while the 65cc riders were presented with $9,450. The Regional Championship and National Championship contingency dollars added up to a total of $882,425 for the 2018 season.
Honda returns to the AMA Amateur National with $135,000 in contingency dollars to offer their Red Riders. Alongside Honda is a star-studded line-up of manufacturers such as Kawasaki, who is offering a total of $128,000. Suzuki contributes $81,850, KTM and Husqvarna will be giving $78,750 to the National finale, while Yamaha returns to the lineup in 2018 offering $58,000 in contingency. Specializing in 51cc and 65cc classes, Cobra is set to give away $9,000 to the future stars of our sport in contingency awards.
"We are honored that the OEMs have put up nearly one million dollars in Youth and Amateur Contingency for our program," said Tim Cotter, Director of MX Sports. "These monies are testament of the commitment that the manufacturers have in these elite athletes."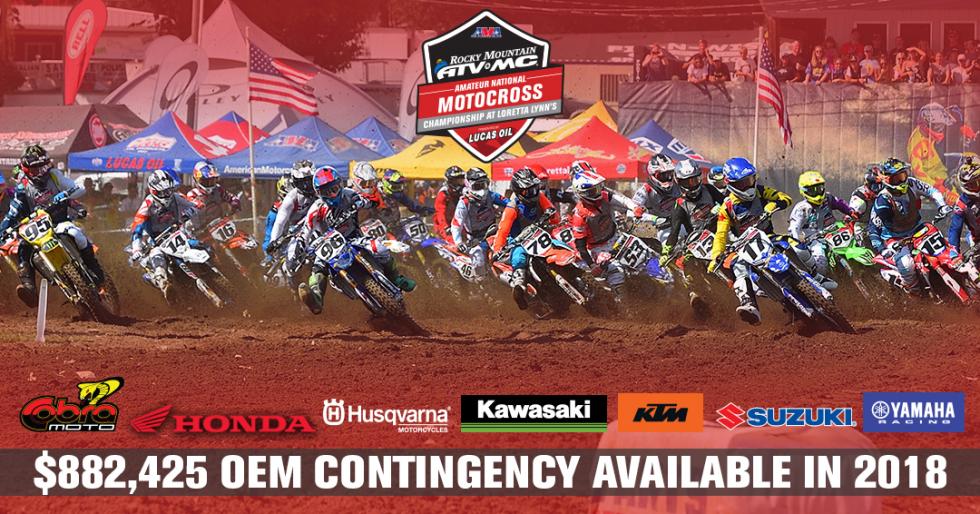 Participating riders should check with their chosen OEM to learn how to redeem earned contingency at the National. You can view the specific breakdown online HERE. Accompanying their respective contingency programs, all seven manufacturers including Honda Red Riders, KTM Orange Brigade, Team Green Kawasaki, Suzuki RM Army, Husqvarna, Cobra, and bLU cRU Yamaha will have trackside support teams onsite to lend a hand to racers on each respective brand.
The National class structure includes classes for youth riders on 50cc bikes all the way up to vet and senior classes. The race will follow a three-moto format, over the course of one week. Racers have previously qualified at Area Qualifiers and then Regional Championships in order to participate in the National event.
There will be 40+ hours of live online streaming coverage that begins with opening ceremonies on Monday, July 30 through Saturday, August 4 on RacerTV.com, and two one-hour highlight shows featuring the event will air on NBC Sports Network this fall.
For more information on the AMA Amateur National, visit the series official website at www.mxsports.com or call (304) 284-0101. Join the conversation on the event's social media channels, along with receiving the most up-to-date news and exclusive content.
About the Rocky Mountain ATV/MC AMA Amateur National Motocross Championship
The Rocky Mountain ATV/MC AMA Amateur National Motocross Championship is the world's largest and most prestigious amateur motocross racing program. The national qualifying program consists of 57 Area Qualifiers (February through May) and 13 Regional Championships (May through June), hosted at select motocross facilities across the country. The qualifying system culminates in the National Final (first week in August) hosted annually since 1982 at the home of country music star Loretta Lynn in Hurricane Mills, Tenn. Nearly 22,000 racers attempt to qualify in 35 classes for the 1,470 available positions at the National. Christened "The World's Greatest Motocross Vacation", the National event serves as a launch pad for some of the biggest names in professional motocross and supercross, including Eli Tomac, Ken Roczen, Aaron Plessinger and Justin Barcia. The national program is produced by MX Sports, Inc., a West Virginia-based race production company and sanctioned by AMA. For more information, please visit www.mxsports.com.
About the American Motorcyclist Association
Founded in 1924, the AMA is a not-for-profit member-based association whose mission is to promote the motorcycle lifestyle and protect the future of motorcycling. As the world's largest motorcycling rights and event sanctioning organization, the AMA advocates for riders' interests at all levels of government and sanctions thousands of competition and recreational events every year. The AMA also provides money-saving discounts on products and services for its members. Through the AMA Motorcycle Hall of Fame in Pickerington, Ohio, the AMA honors the heroes and heritage of motorcycling. For more information, visit www.americanmotorcyclist.com. Not a member? Join the AMA today: www.americanmotorcyclist.com/membership/join.