NBCSN Tune-In Alert: Loretta Lynn's AMA Amateur Motocross National Episode 2 This Saturday at 5 p.m. ET
Time
Thursday, December 21, 2017 | 4:00 PM
The second NBCSN highlight episode from the 2017 Rocky Mountain ATV/MC AMA Amateur National Motocross Championship presented by Lucas Oil is set to air this Saturday, December 23, at 5 p.m. EST.
You'll be treated to highlights from both the 250 A and 250 B classes, featuring up-and-coming talent such as Garrett Marchbanks, Joey Crown, Seth Hammaker, Joe Shimoda and Derek Drake. The show will also include a story on the ultimate motocross fan, Brian Spencer, in addition to a salute to the 2017 class champions. Professional motocross athlete, Jimmy Albertson, and the voice of Lucas Oil Pro Motocross, Jason Weigandt, will be commentating the show.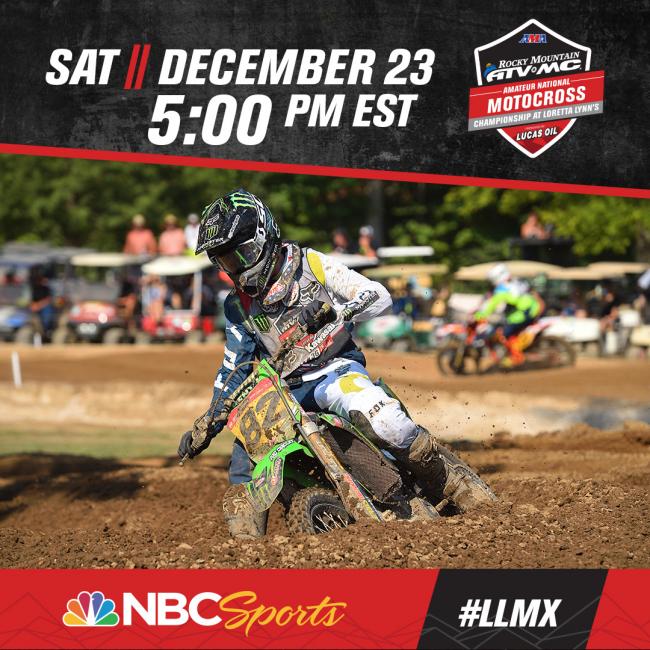 PREMIERE:
Saturday, December 23
LLMX Show Episode 2
Television: 5 pm EST, NBCSN
REPEAT AIRING:
Wednesday, December 27
LLMX Show Episode 2
Television: 3 pm EST, NBCSN
REPEAT AIRING:
Saturday, December 30
LLMX Show Episode 2
Television: 12 pm EST, NBCSN
For more information on the world's largest and most prestigious amateur national motocross championship visit the event official website at www.mxsports.com or call (304) 284-0084. Also follow the Facebook, Twitter and Instagram accounts for exclusive content and to catch the latest news. Visit RacerTV.com for the 2017 Loretta Lynn Remastered series to hold you over this off-season. 10 new motos are released each Monday right HERE.
Use the NBCSN channel finder to determine the channel for NBCSN in your area.