Kawasaki Team Green Program
TimeFriday, September 1, 2017 | 1:00 PM
Kawasaki Motors Corp., U.S.A. (KMC) is sharing a candid video of what Kawasaki Team Green™ has to offer and why motocross riders of all ages want to ride Kawasaki motorcycles.
A tradition since 1982, Team Green was in full force this summer at the 36th Annual AMA Amateur National Motocross Championship with a full complement of technicians and support for all Kawasaki riders. On the track, motocross racing can be quite challenging as riders race to the checkered flag; it's where motocross legends and former Kawasaki Team Green riders like, Jeremy McGrath, Ryan Villopoto, Ricky Carmichael and James Stewart were built. Off the track, motocross is about spending time with family and friends and enjoying the camaraderie of being part of a team. McGrath and Villopoto are just a couple of the legends featured in the video speaking highly of the Team Green program and playing a major role in their success. The video highlights proof that the program remains an important part of the rider's lives, as McGrath and Villopoto have continued to show their support for the young riders and the Team Green program throughout their retired years. With that support, Kawasaki riders left the ranch with seven championships and a lifetime of memories.
As the year comes to a close, the Team Green staff with exceptional trackside support will be attending the Baja Brawl, TransWorld SLAM Festival, the Kawasaki Race of Champions and the Thor Winter Olympics, just to name a few.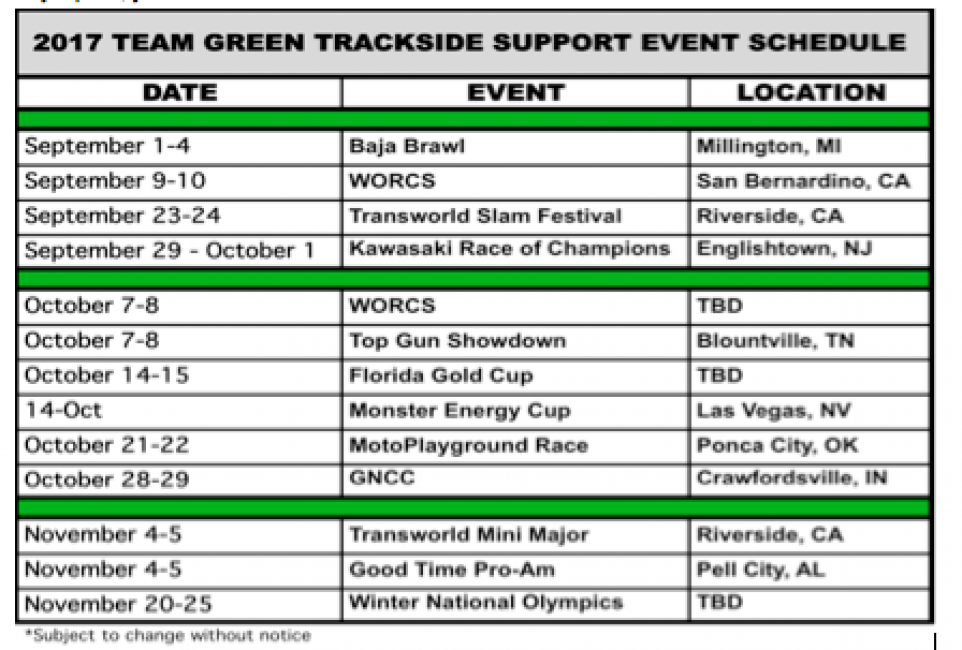 Kawasaki rider championships and podium finishes from Loretta Lynn's AMA Amateur National Motocross Championship:

AMA Amateur Rider of the Year
Garrett Marchbanks

WMX
1st – Kylie Fasnacht
2nd – Hannah Hodges
3rd – Shelby Rolen

Open Pro Sport
2nd - Joey Crown

250 A
3rd - Joey Crown

250 B
1st - Garrett Marchbanks
2nd - Seth Hammaker

250 C Limited
2nd - Rylan Smith

450 C
3rd - Matthew Kretzler

College (18-24)
2nd - Felix Lopez
3rd - Scott Meshey

Vet (30+)
1st - Taylor Painter

Senior (40+)
2nd - John Grewe

Masters (50+)
1st - John Grewe
3rd - Earl May

85cc (9-11) Limited
1st - Ryder DiFrancesco
2nd - Chance Hymas
3rd - Nicholas Romano

85cc (9-12)
1st - Jett Reynolds
2nd - Ryder DiFrancesco

Mini Sr 2 (12-14)
3rd - Nate Thrasher

Supermini 1 (12-15)
2nd - Dilan Schwartz

Supermini 2 (13-16)
2nd - Stilez Robertson

Schoolboy 2 (12-17) B/C
1st - Garrett Marchbanks

Women (12+) Amateur
1st - Hannah Hodges