Cobra Moto sweeps top 51cc spots @ Loretta's, Cochran adds 65cc 10-11 title
TimeWednesday, August 9, 2017 | 5:35 PM
Cobra Moto sweeps top 51cc spots @ Loretta's, Cochran adds 65cc 10-11 title
Cobra Moto's Casey Cochran tops Haiden Deegan for the notable 65cc Ltd. 10-11 crown, plus 51cc Cobra Moto titles from Drew Adams, Wyatt Thurman & Roxyn Rinehart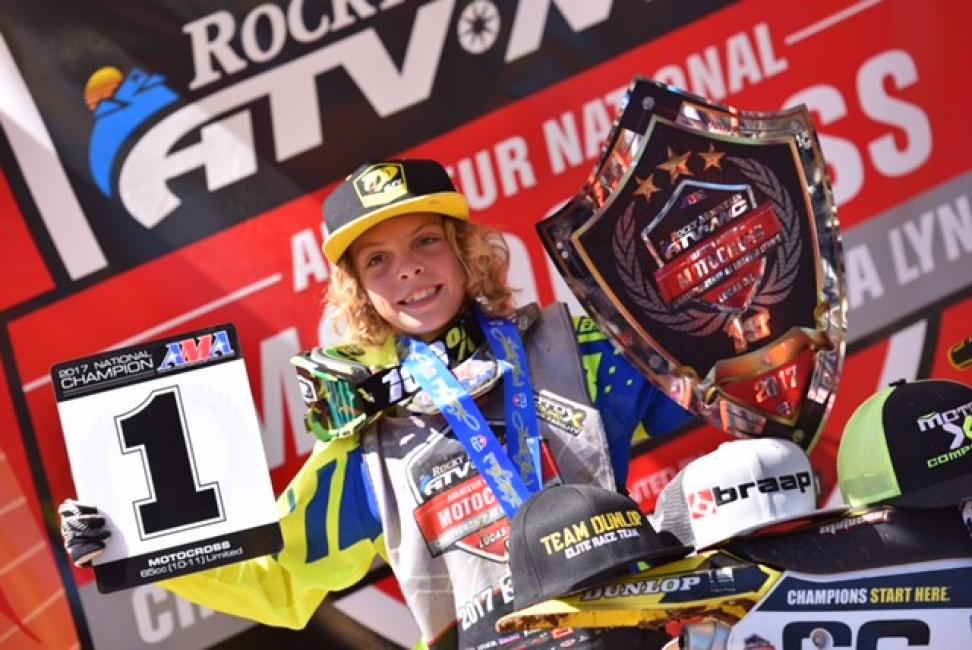 The American-made Cobra Moto competition minicycles enjoyed one of the company's most successful national amateur motocross championships on record with Cobra Moto racers sweeping all the major titles in the 51cc classes, along with a championship in the prestigious 65cc 10-11 Ltd class at the 36th annual Rocky Mountain ATV/MC AMA Amateur National Motocross Championship, aka "Loretta Lynn's."
In all, kids on Cobra Moto race bikes would capture eight of nine podium spots in the 51cc classes Cobra race bikes competed in, and half the podium spots (three of six) in the factory-specific 65cc Ltd classes.
"Definitely a banner year for Cobra Moto at Loretta's," said Cobra Moto President Sean Hilbert. "This is where it all comes together for the factories that make the world's finest and most competitive minicycles. For us it's the Super Bowl of amateur motocross engineering. So to have as dominant a week as we did, against the best-of-the-best, we couldn't be more pleased. And that's not only the kids and their families that competed here at Loretta's, but also the team back home in Michigan at the Cobra Moto factory that helps make this all happen."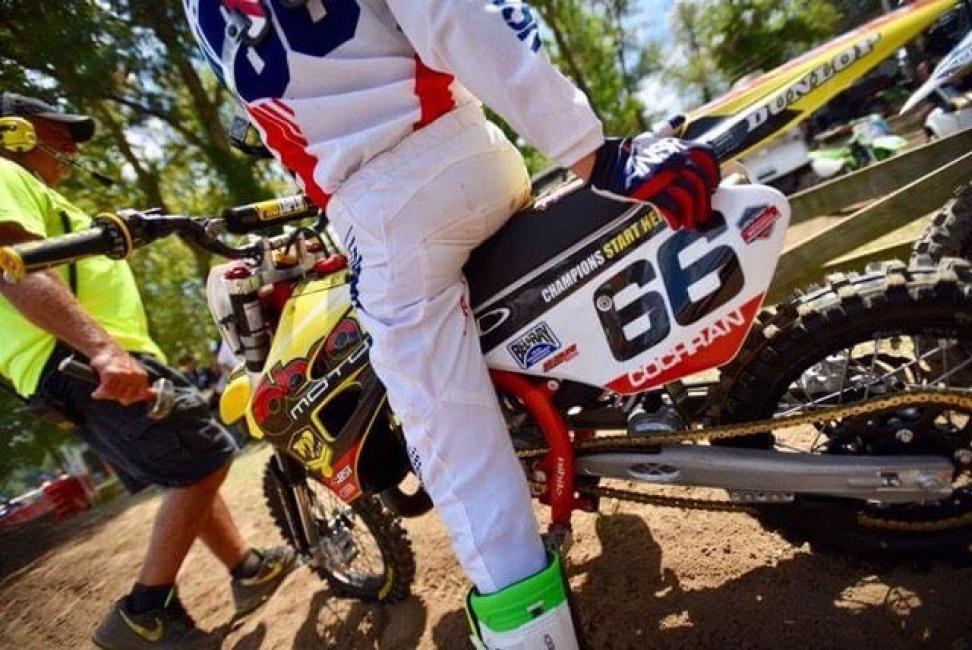 Cochran's King on his CX65!
Georgia's Casey Cochran put on a historic ride for Cobra Moto at Loretta's, capturing the company's first-ever 65cc Ltd 10-11 championship with a 2nd/2nd/1st three-moto effort. Cochran also locked down Cobra's first-ever holeshot in the class, and led a memorable charge that saw only three Cobra Moto kids (Cochran, Californian Parker Ross and Arizona's Julien Beaumer) entered in a field of 42 – and took an incredible 1st, 4th (Ross) and 6th place (Beaumer). Ross' 4th place moto finish would land him on the overall podium (3rd) with Cochran, giving Cobra Moto a best-ever two podium places in the class.
Ross would also add a near-podium 4th place finish in the elder 65cc 7-11 Open class with a solid 4th/7th/4th three-moto run.
Tennessean Drew Adams would continue his great week at Loretta's (more on Adams in the 51cc class below). With another 65cc Cobra Moto win on Saturday (Adams' coming in the 7-9 Ltd class) the Cobra Moto pilot would place 2nd place overall. Wisconsin's Wyatt McGrath (7th) would also make the top ten in the 65cc 7-9 Ltd class on his Cobra Moto CX65.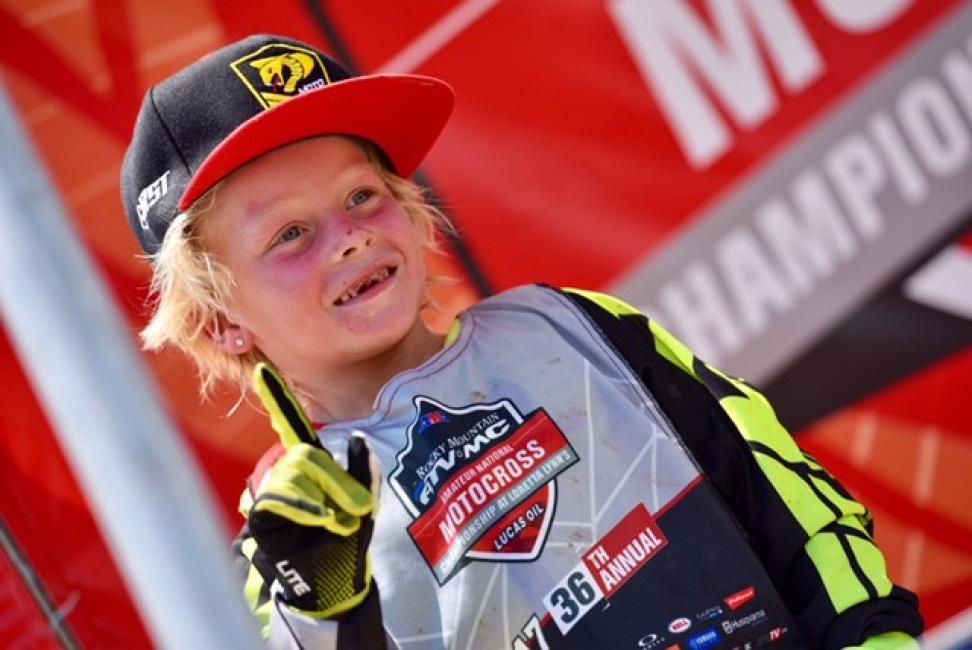 Cobra Moto kids hammer it in the 51cc classes!
In the premier 51cc 7-8 Ltd class Cobra Moto's Drew Adams locked down his first major national championship with a 1st/1st/1stthree moto sweep on his CX50FWE. Adams would easily top Seth Dennis, who switched brands after winning Loretta's 51cc 4-6 Ltd title last year on a Cobra CX50 JR. And rounding out the podium in the 51cc 7-8 Ltd class on his Cobra Moto CX50FWE was Pennsylvania's William Canaguier III with a solid 2nd/4th/3rd run.
In the 51cc 4-6 Ltd class Cobra Moto's California racers Wyatt Thurman and Ryder Ellis would go 1-2, Thurman capturing the first two motos and placing 2nd in third moto to secure the win with Ellis winning the third moto to top Michigan's Uriah Wood (3rdplace on his CX50 JR) for 2nd place. Cobra Moto's Gage Dunham (Colorado) looked to have 2nd in the bag, going 2-2 in the first two motos. But a 10th place third moto would keep Dunham off the box (4th overall).
And in the 51cc 4-6 Special Limited class Cobra Moto's Roxyn Rinehart (Alabama) would go 1st/1st/2nd for the overall win on his new CX50 P3, Cobra Moto's first overall win in the class. Rinehart was joined on the overall Cobra Moto podium sweep by California's Ryder Darrigo (2nd) and Texas' Christopher Harris (3rd).
"Again, congratulations to all the Cobra Moto kids and their families that put in the hard work to make Loretta's this year," added Hilbert. "Everyone at Cobra Moto headquarters is very proud of you and we look forward to your continued success with Cobra Moto."
Cobra Moto would like to thank all of the companies it partners with to bring the finest minicycles in the world to market including Bel-Ray, SKF, CARD, Dunlop, Coker Pump, Answer/Pro Taper and Roost MX.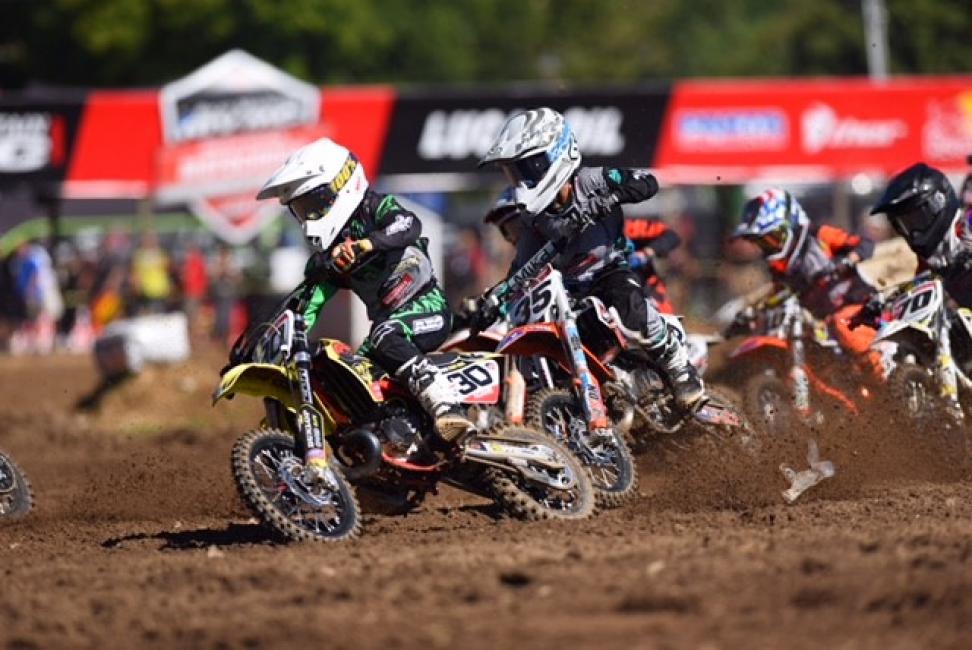 About Cobra Moto
Cobra Moto, founded in 1993, produces the most successful line of competition mini cycles in the United States with more than 300 national titles in the last decade. Based out of Hillsdale, Mich., Cobra Moto's mission is to build premium products for the serious racer. For more information on Cobra products, please visit our website at www.cobramotorcycle.com and like us on Cobra Nationon Facebook.
HPPR is a multi-faceted communications agency specializing in strategic media relations and promotions for the powersports and action sports communities. Dialed in with all forms of power and action sports, its participants, manufacturers and live event promoters, HPPR's Pat Schutte can be reached at [email protected]