Top-Notch Medical Assistance Slated for 36th Annual Rocky Mountain ATV/MC AMA Amateur National Motocross Championship
by:
Time
Thursday, July 20, 2017 | 4:25 PM
FOR IMMEDIATE RELEASE
Chelsea Taylor
(304) 284-0101
[email protected]
Top-Notch Medical Assistance Slated for 36th Annual
Rocky Mountain ATV/MC AMA Amateur National Motocross Championship
MORGANTOWN, W.Va. (July 20, 2017) – MX Sports is proud to announce the extensive medical plan lead by Fit-N-Wise Sports Medicine Team, a Wise Medical Health System service, for the 36th Annual Rocky Mountain ATV/MC AMA Amateur National Motocross Championship presented by Lucas Oil.
Under the direction of Event Medical Director Dr. James McGhee, the Fit-N-Wise Sports Medicine Team will join forces with the on-track Infield Medical Team, consisting of local fire fighters, paramedics and EMT's with motorcycle riding/race experience, and the Facility Medical Team provided by American Medical Response (AMR), a nation-wide ambulance service.
"We are honored to be the official medical team for the 2017 Loretta Lynn Amateur National," said Fit-N-Wise Motocross Trainer, Jeremy Durrett. "Our goal is to ensure that riders have a comprehensive and professional medical service available trackside. We are excited to offer more specialized medical attention than has ever been available for amateur riders competing at this level. Our orthopedic experts aim to provide top notch medical services to our motocross athletes."
This extensive medical team will be joined by Ricky Rickords and the Brett Downey Safety Foundation, as well as key MX Sports Pro Racing technical staff, to advise track flaggers and provide infield safety monitoring. Together the medical and infield staff at the AMA Amateur National will provide unprecedented medical assistance for national competitors.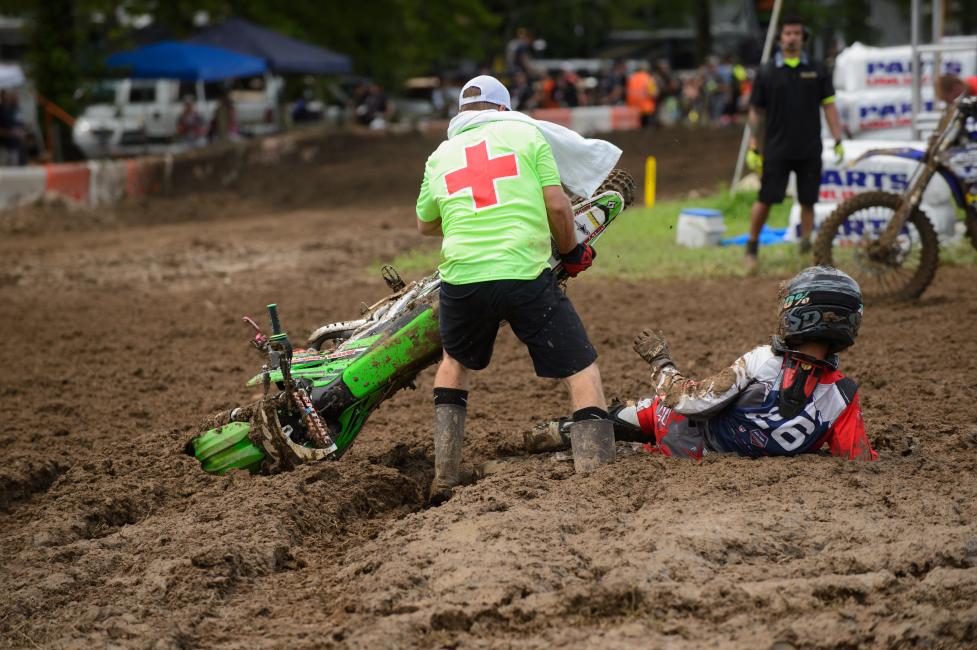 In addition, Air Evac Lifeteam will once again be onsite to provide air medical transportation in the unlikely event that a rider sustains injury that requires an air flight transport. Air-Evac Lifeteam creates a secondary insurance that will ensure that riders or family members will not incur any out-of-pocket expenses related to an air medical transport from the Ranch.
"Air Evac Lifeteam is proud to provide helicopter air ambulance service to the world-class athletes that will be present at the largest amateur motocross event on the globe," said Waverly Tennessee Air Evac Program Director, Karen Ledbetter.
The National class structure includes classes for youth riders on 50cc bikes all the way up to vet and masters classes. The race will follow a three-moto format over the course of one week. Racers have previously qualified at Area Qualifiers and then Regional Championships in order to participate in the National event.
"MX Sports is committed to providing the best onsite medical care and transportation available," said MX Sports Event Director, Tim Cotter. "We have assembled a highly skilled team of people that are at the ready throughout the week."
There will be 46+ hours of live online streaming coverage that begins on Tuesday, August 1 through Saturday, August 5 on RacerTV.com, and two one-hour highlight shows featuring the event will air on NBC Sports Network on Saturday, November 11 at 2:30 p.m. and Saturday, December 23 at 3:00 p.m. EST.
The 2017 Rocky Mountain ATV/MC AMA Amateur National Motocross Championship presented by Lucas Oil kicks off in just over one week, July 31, in Hurricane Mills, Tennessee. For additional information, visit the official website at www.mxsports.com or call (304) 284-0101. Also follow the official Facebook, Twitter and Instagram accounts for exclusive content and to catch the latest news.
About the Fit-N-Wise Sports Medicine Team, A Wise Health System Service
Fit-N-Wise, a Wise Health System service, provides an advanced facility for training. The Fit-N-Wise Sports Medicine Team's goal is to produce highly trained and educated athletes by providing quality training and medical services. The Fit-N-Wise Sports Medicine Team, made up of more than 40 licensed healthcare providers, provides services for all levels of athletes, from amateur to professional. The most up-to-date medical research, strength and conditioning research and seasoned industry professionals guide our program. We are committed to providing a quality service to the motocross industry. Wise Health System provides inpatient and outpatient services at more than 60 locations in and around the Dallas-Fort Worth Metroplex. For more information, visit WiseHealthSystem.com or Fit-N-Wise.com.
About Air Evac Lifeteam
Air Evac Lifeteam is the leading provider of helicopter emergency medical services to communities in need of rapid medical transport to advanced health care. Headquartered in O'Fallon, Mo., Air Evac has more than 130 air medical bases across 15 states. Flight crews, consisting of a pilot, flight nurse and flight paramedic, are on duty 24 hours a day, seven days a week to respond to the scene of an emergency, or provide transportation between medical facilities. For more information, please visit www.lifeteam.net or like us on Facebook. For membership information, please visit AirMedCareNetwork.com or call 1.800.793.0010.
About AirMedCare
Air Evac Lifeteam is a membership-supported air ambulance service that is part of the AirMedCare Network. AirMedCare is America's largest air medical transport membership network, providing emergency access to the highest levels of care for its 2.7 million subscribers. The AirMedCare Network combines the membership programs of four leading air ambulance operators: Air Evac Lifeteam, REACH, Med-Trans Corporation and Air Medical Resource Group. For more information about memberships, visit www.airmedcarenetwork.com.
About the Brett Downey Safety Foundation
The mission of the Brett Downey Safety Foundation is to supplement the motocross community by increasing safety awareness of riders, parents, track owners, and promoters to make the sport of motocross as safe as possible, minimizing injuries and helping to preserve all motocross tracks. Moreover, the Foundation is a non-profit organization lead by a volunteer staff. To learn more about the Foundation please explore the website, www.mxsafety38.org.
About the Rocky Mountain ATV/MC AMA Amateur National Motocross Championship
The Rocky Mountain ATV/MC AMA Amateur National Motocross Championship is the world's largest and most prestigious amateur motocross racing program. The national qualifying program consists of 57 Area Qualifiers (February through May) and 13 Regional Championships (May through June), hosted at select motocross facilities across the country. The qualifying system culminates in the National Final (first week in August) hosted annually since 1982 at the home of country music star Loretta Lynn in Hurricane Mills, Tenn. Nearly 22,000 racers attempt to qualify in 35 classes for the 1,446 available positions at the National. Christened "The World's Greatest Motocross Vacation", the National event serves as a launch pad for some of the biggest names in professional motocross and supercross, including Ricky Carmichael, James Stewart, Ryan Villopoto, and Ryan Dungey. The national program is produced by MX Sports, Inc., a West Virginia-based race production company and sanctioned by AMA. For more information, please visit www.mxsports.com.
About the American Motorcyclist Association
Founded in 1924, the AMA is a not-for-profit member-based association whose mission is to promote the motorcycle lifestyle and protect the future of motorcycling. As the world's largest motorcycling rights and event sanctioning organization, the AMA advocates for riders' interests at all levels of government and sanctions thousands of competition and recreational events every year. The AMA also provides money-saving discounts on products and services for its members. Through the AMA Motorcycle Hall of Fame in Pickerington, Ohio, the AMA honors the heroes and heritage of motorcycling. For more information, visit www.americanmotorcyclist.com. Not a member? Join the AMA today: www.americanmotorcyclist.com/membership/join.
-MXS-